The winners of last week's Organizing Revolution Office challenge ARE:
1st: #149 ~ Mom, Paper, Scissors blog
2nd: #46 ~ The Davis Family
3rd: Liza

Congratulations!!! Someone will be in touch soon (if not already) to get your address. We will be putting you in contact with each sponsor so that you can get that prize… AND, you qualify for one of the GRAND prizes at the end of this month's challenges!!
ASK ANNA TV
THE CHALLENGE
This week we are tackling Kitchen organization!  If you want to always know what challenge is coming up next, make sure to download our calendar.
Download here
THE PROCESS
To join our week 2 challenge, follow these 5 steps:
1. ORGANIZE YOUR KITCHEN If you don't have time to organize the entire space then work on just one area of the kitchen.  The key is to just start somewhere.
2. TAKE PICTURES of your organized space.  For picture tips see this post.
3. LINK UP  Come back to THIS post and link up your Pinterest Board or blog post by Thursday night.  If you need help linking up see this post.
4. FOLLOW ALL of the hosts of the challenge on Pinterest & Facebook (below).
5. VOTE (Friday-Sunday) On Thursday we will open up the voting, and you can send your friends here and have them help to vote for your space their favorite space!
*REMEMBER*  Anyone who enters every week, and wins one of the top THREE spots, will qualify to be entered into a HUGE Grand prize. The Grand Prize will be from Cricut, Oreck, and Office Depot!!!! So, get organizing and enter your pictures because you might just win something HUGE!
THE PRIZES
Below are the prizes for this week's challenge.
1st Place ~ 1 Year FREE subscription to 5 Dinners in 1 Hour, plus a clean eating slower cooker Ebook.
2nd Place ~ $100 worth of Fridge Coaster products.
3rd Place ~ $100 Gift Certificate to Clean Mama Printables.
For full details of all these fabulous prizes click here.
The kitchen is the "heart" of every home so it's very important that it is well organized and its function doesn't make you skip a beat.  I want to show you some of the ways I have organized my kitchen to help it run smoothly.  When we moved in, our kitchen was dark, old and outdated (click here if you want to see the full transformation).  In order for a kitchen to "feel" clean and organized I think it needs to be bright, airy and open.  Since we have a galley-style kitchen my only options for making it "feel" that way were to use fresh colored paints and open up the cabinets.
By removing 4 cabinet doors I made the kitchen feel bigger, more open and it shows off how organized the cabinets are!
Because my kitchen is small, I also had to be very strategic in where everything was placed.  I created "zones" so that things I use at the same time, are all very close together.  Here's what my cooking and baking zone looks like: spices, prepping ramekins, pots & pans are all located next to each other.
My kitchen only has 4 1/2 lower cabinets so I had to be VERY creative in how I stored my pots and pans.  Luckily my cabinets are pretty deep so I was able to layer them and fit everything all into one cabinet!
I am lucky enough to have a pantry but it's very tall, very narrow and very deep which, if not organized well, would make it hard to find anything.  Because I need to use every inch of the pantry I used baskets to store my food items. With everything in baskets I can easily access items on the back of the shelf by simply sliding the front basket out of the way.  Before implementing the basket organization I was only able to store about 1/2 of what I have in there now!
I use baskets in my other cabinets too.  They are a great tool for keeping items together, that would normally fall over easily.  I use them to store my martini shakers and shot glasses, as well as all of our water bottles and to go cups.
Another very important organization tool in my kitchen is my brain, I mean my chalkboard message board.  Without having this chalkboard in the kitchen I would forget so many things!  Having an easily accessible message board I am able to write down our meals for the week, items we need to pick up at the grocery store, our schedule, my "honey do list", etc. This keeps all my "to do" lists off the fridge and counters, and puts them all on one cute little chalkboard!
So now that you've seen how I organized my kitchen, how will you organize yours?  I can't wait to see what creative solutions you come up!  If you need a little extra motivation just remember that there are prizes!
THE HOSTESSES
Who are these fabulous organizing bloggers that are hosting? They are listed below. We would love for you to stop by each of our unique blogs and say hi.
FOLLOW TO WIN
The best part of the challenge… Its SUPER easy to enter!  Follow each of us on Pinterest, Facebook and our blogs.  This is a group of bloggers you will definitely want to follow because we all have some great organizing tips, and we love to work together to bring you fabulous opportunities like this one!
GRAB A BUTTON
If you are joining our organizing challenge, grab a button and display it on your blog.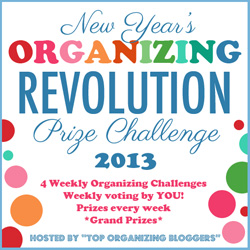 <div align="center"><a href="https://askannamoseley.com/" title="Ask Anna" target="_blank"><img src="https://www.abowlfulloflemons.net/wp-content/uploads/2012/12/OrganizingRevolution250.jpg" alt="Ask Anna"  width="250" height="250" style="border:none;" /></a></div>